The Castro Theater and Another Planet Entertainment (APE) have announced plans to celebrate the historic theater's 100th anniversary.
Plans include a week of screenings featuring iconic films from every decade in the Castro Theater's history, June 3-12. Tickets for the screenings are on sale now.
Additionally, to mark the 100th anniversary of the theater's 1922 debut on June 22, a day of films that were all shot in San Francisco will be screened.

Opening night at the Castro Theater on June 22, 1922. | Photo: OpenSFHistory
"It is always my family's honor and privilege to own the Castro Theater," said Castro Theater co-owner Steve Nasser. "After two years of COVID-forced closures, it's such a joy and pleasure to reopen and work with the best and most responsive local producers, Another Planet Entertainment."
Nasser and Elaine Nasser Padian are the third generation of this family to run the company, founded by their grandfather Abraham and his sons who designed and built the Castro Theater in 1922.
Architect Timothy Pflueger designed the Spanish Baroque-style building, and it was updated in the 1930s with the Art Deco marquee, sunburst chandelier, and neon sign.
The Castro Theater was officially designated as San Francisco's #100 Landmark on September 3, 1977. Earlier this week, District 8 Supervisor Rafael Mandelman offered to update and improve the theater's historic status.
Classic films scheduled to screen include The Lodger, Night at the Opera, The Lady from Shanghai, Casablanca, From Here to Eternity, Some Like it Hot, Breakfast at Tiffany's, Star Wars: A New Hope, The Godfather, Raiders of the Lost Ark, Casino, The Birdcage.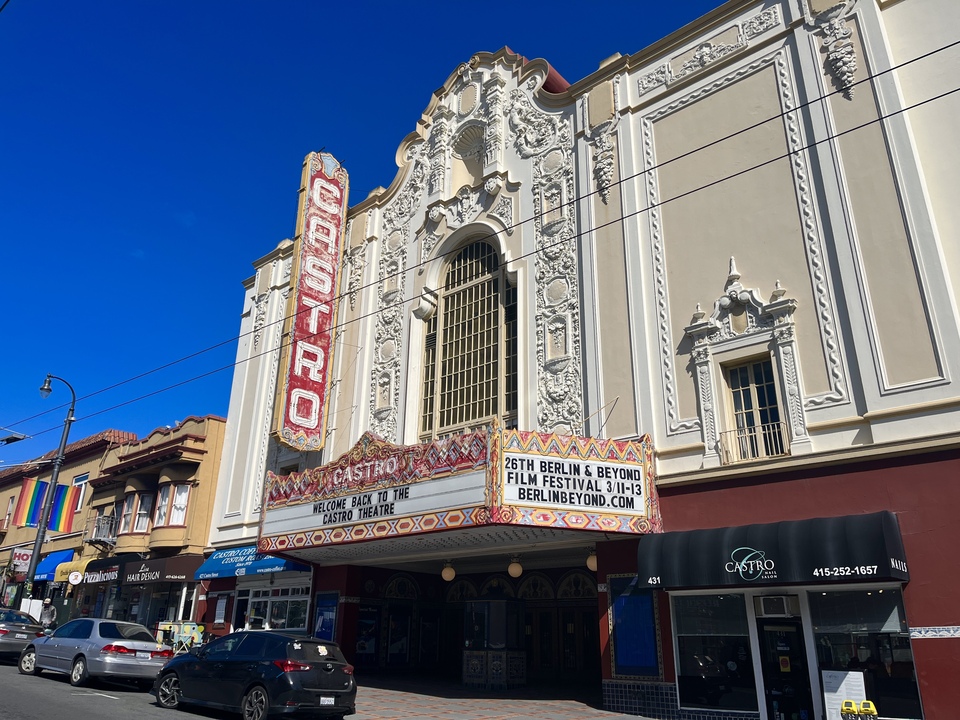 Photo: Steven Bracco/Hoodline
Newer versions that will be screened include Ironman, No Country for Old Men, Black Panther and Bohemian Rhapsody.
San Francisco-themed films set to screen on June 22 include San Francisco, Mrs. Doubtfire, Dirty Harry, Sudden Fear and Bullitt. (See below for a full list of scheduled films).
The 2008 Oscar-winning biopic by Gus Van Sant is conspicuously absent from the list of films during this celebration. Milk. APE spokesman David Perry told Hoodline the film will be screened at a later date. "We are in the process of planning a special screening of 'Milk' as a fundraiser for a local LGBT nonprofit," Perry said.
Earlier this year, it was announced that Another Planet Entertainment would take over the programming and redesign of the theater, while ownership would still be owned by the Nasser family and Bay Properties Inc.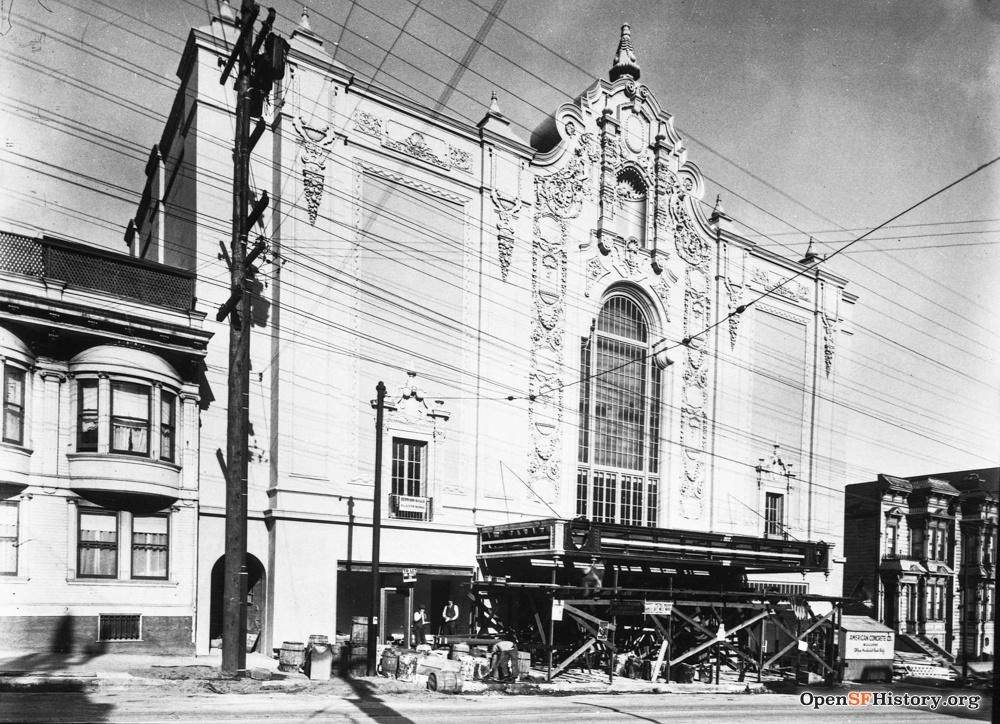 Castro Theater under construction in 1922. | Photo: OpenSFHistory
"The Castro is so much more than a theater," said Mary Conde, Senior Vice President of Another Planet, who oversees the entire Castro Theater project. "An LGBTQ touchstone, moviegoer icon, community landmark and architectural gem, the Castro is unique. Another Planet is honored to restore, renovate and revitalize the Castro as home to all that we love about the Castro, and to expand its audience.
Proposed renovations include removing orchestra-level seating and replacing it with four sections of tiered platforms with removable seating; remove the concession stand in the lobby; enlarge women's toilets; improve ventilation and electrical systems; and possibly the addition of an elevator with access from the lobby level to the second floor.
Neighborhood residents continue to have questions and concerns about the future of the historic theater. Earlier this year, Greg Perloff, CEO and co-founder of APE, addressed some of these concerns in an interview with Hoodline.
Friday, June 3: (1920s Decade)
Oh Doctor (2:45 p.m.)
The Mark of Zorro (4:30 p.m.)
Direction Singapore (6:00 p.m.)
The Landlord (7:45 p.m.)
Sunrise (9:45 p.m.)
Saturday, June 4: (1930s Decade)
Shining Eyes (10:30 a.m.)
Forgive us (1 p.m.)
Thin Man (2:45 p.m.)
The Adventures of Robinhood (4:45 p.m.)
Women (7 p.m.)
Night at the Opera (9:30 p.m.)
Sunday June 5: (Decade of the 1940s & Special Family Report)
Lion King (10:30 a.m.)
Philadelphia History (2:30 p.m.)
The Lady of Shanghai (5 p.m.)
Mildred Pierce (7 p.m.)
Casablanca (9:30 p.m.)
Monday, June 6 (1950s Decade)
From Here to Eternity (4 p.m.)
Some Like It Hot (6:30 p.m.)
All About Eve (9:15 p.m.)
Tuesday, June 7 (1960s Decade)
Butch Cassidy & Sundance Kid (2 p.m.)
The Man Who Shot Liberty Valance (4:30 p.m.)
Breakfast at Tiffany's (7 p.m.)
The Magnificent 7 (9:30 p.m.)
Wednesday, June 8 (1970s Decade)
Star Wars: A New Hope (4 p.m.)
Chinatown (6:30 p.m.)
The Godfather (9:20 p.m.)
Thursday, June 9 (1980s Decade)
Raiders of the Lost Ark (4 p.m.)
Amédée (6:30 p.m.)
Blade Runner (9:20 p.m.)
Friday, June 10 (1990s Decade)
Casino (1 p.m.)
Rush hour (4:30 p.m.)
American Beauty (6:45 p.m.)
The Birdcage (9:30 p.m.)
Saturday, June 11 (Decade of the 2000s)
Ironman (1 p.m.)
The Royal Tenenbaums (4 p.m.)
No Country for Old Men (7 p.m.)
Sunday, June 12 (decade of the 2010s)
Black Panther (1 p.m.)
A Star is Born (3:50 p.m.)
Bohemian Rhapsody (6:30 p.m.)
Once Upon a Time in Hollywood (9:15 p.m.)
Wednesday, June 22 (actual opening date in 1922) Films shot in San Francisco
San Francisco (10:30 a.m.)
Mrs. Doubtfire (1 p.m.)
Dirty Harry (3:30 p.m.)
Sudden Fear (6 p.m.)
Bullit (8:15 p.m.)